FAST & EASY! ORDER ONLINE!
(scroll down for details)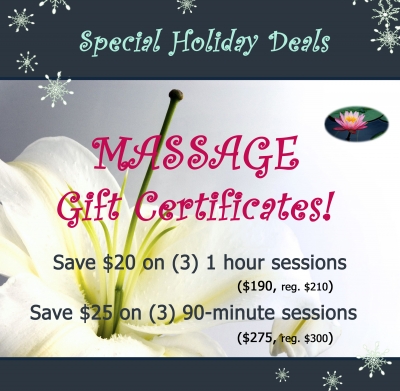 Massage is a Gift of Health & Wellbeing, a Perfect Gift for Everyone!
Call today (603)953-3251 or Order Gift Certificates Online!
(Click Here for a complete list of massage rates)
TO ORDER ONLINE:
Step 1) Click Here & Fill Out Our Contact Form:
In the Message Field, include for each gift certificate you wish to purchase:
The Length (i.e. 90-minute Massage) & Quantity of Sessions (i.e. 3 Massages)
Whether you would like to receive the gift certificate by U.S. Mail or by Email (as a .jpg file).
Mailing address OR Email address where you would like the certificate sent.
Step 2) Write a check for the total amount due, made out to "Danielle Ouimette". Mail it to the address below.
We will contact you to confirm your order, and we will send your order within 1-2 business days.
Danielle Ouimette, LMT
Vital Connections Massage & Bodywork
1 Cate Street, Suite 1 c/o Lighthouse PT
Portsmouth, NH 03801